"A good book is an event in [one's] life." —Stendhal

With Listening to Literature we aim to share our love of literature, writ large, with the Savannah community and beyond. Join us on Fridays, 12:05 p.m.
Leigh E. Rich
In the vein of Anton Chekhov, Leigh E. Rich has followed two passions in life: literature and medicine.
A longtime "culture critic," she is an award-winning writer of editorials, news and feature stories, and reviews, and she has experience as a staff and free-lance journalist for multiple publications in the United States.
She also holds a doctorate in Health and Behavioral Sciences and a master's degree in Cultural and Medical Anthropology and has worked or studied in Australia, Denmark, Italy, Russia, and Switzerland.
A professor of Health Administration, she teaches courses in bioethics, health law and policy, and social theory.
Catch her on Fridays at 12:05 p.m. for Listening to Literature and also at 11 a.m. when she co-hosts Beyond the Liner Notes and Saturdays at 10 a.m. as a guest co-host on Health Care Ethics.
P. T. Bridgeport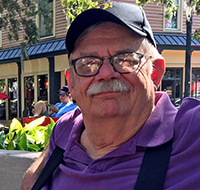 P. T. Bridgeport is a photographer, calligrapher, and uncompensated curmudgeon.
He is a member of the Savannah Art Association Board of Directors and shows work at the Association Art Gallery on Chippewa Square.
He also co-hosts Beyond the Liner Notes at 10 a.m. on Fridays and has his own show, When the Moon Sings, on Saturday evenings at 5 p.m. He was a trombonist early in life, but went through a program and now lives spit-valve free.