The Back in the Day Bakery Cookbook and Wiley's Championship BBQ: Secrets That Old Men Take to the Grave
Amy Paige Condon
On L2L: November 10, 2017 (click to listen to the episode)
About the Books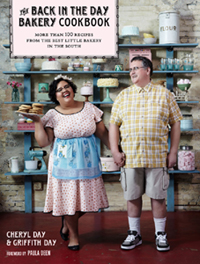 Nationally recognized and locally adored for its homespun desserts and rustic breads, Back in the Day Bakery is a Savannah landmark. As Paula Deen says in her foreword, Cheryl and Griff Day "bake decadent treats, but they also bake wonderful memories that stay with you forever." This cookbook, which celebrates the bakery's tenth anniversary, is packed with Cheryl and Griff's baking know-how and filled with recipes of customers' favorites, including Buttermilk Biscones, Old-Fashioned Cupcakes, Chocolate Bread, Cinnamon Sticky Buns, S'more Pie, Almond Crunchies, Drunk Blondies, Pinkies Chocolate Lunch-Box Treats, Rustic Cheddar Pecan Rounds, and more. Full-color photographs of food and behind-the-scenes bakery shots give readers a glimpse into the daily life at the bakeshop. Celebrating family traditions, scratch baking, and quality ingredients, The Back in the Day Bakery Cookbook is like a down-home bake sale in a book.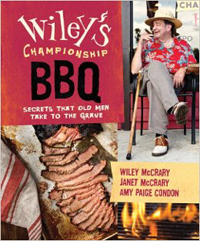 Wiley McCrary has spent more than thirty years preaching the gospel of the Church of the Holy Smoke. As a dedicated evangelist of the 'cue, with this cookbook he has tried to dispel the myths and mysteries behind good barbecue and teach folks what they're capable of doing on their own. The techniques and recipes don't favor one region over another and cover all manner of animal―from cow, pig, and sheep to bird, fish, and shellfish, along with the best marinades, rubs, sauces, sides, drinks, and desserts to go on 'em, along with 'em, or after 'em. Wiley and Janet McCrary are the owners of Wiley's Championship BBQ in Savannah, Georgia, where they've been serving up their prize-winning competition barbecue to customers since 2005.
About the Author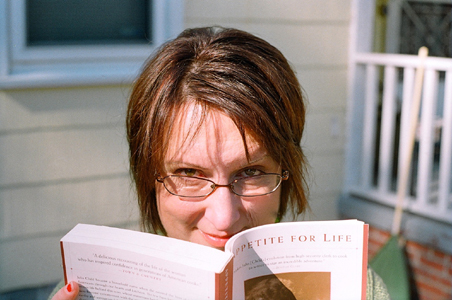 For Amy Paige Condon, it all started when her kindergarten teacher asked how to keep her occupied after she finished her vocabulary and counting work. Amy's mother advised, "Just stick a book in her hand." Thus, by the age of five, Amy's love of a good story was firmly intact. She carried this ardor with her through high school English, college journalism, and even a career as an urban parks planner—where she honed her persuasive storytelling techniques to get legislation passed.
But after sixteen years in the park planning profession, Amy couldn't shake the feeling that there were other stories she was meant to tell. She took community education classes at Miami-Dade College to reawaken the muscle memory of the creative writing she had stopped exercising after college. Then, in 2009, she and her husband, Brian, switched gears, sold everything and moved to Savannah, so that she could earn a Master of Fine Arts degree in writing from the Savannah College of Art and Design.
While still a graduate student, she co-authored (with baker-owners Cheryl and Griffith Day) the New York Times bestseller The Back in the Day Bakery Cookbook (Artisan 2012). Then, for her master's thesis, she co-wrote (with Wiley and Janet McCrary) The Wiley's Championship BBQ Cookbook: Secrets That Old Men Take to the Grave, which became a top-selling cookbook for Gibbs Smith Publishers and was named the best cookbook of 2014 by the National Barbecue News.
Many people also might know Amy as a writer and editor for Savannah magazine and for articles in publications such as HistoryMiami, The Local Palate, Tasting Table, This Old House, Renew, Paprika Southern, and Garden & Gun.
She helps others with the craft of writing as well. In 2012, she started teaching creative writing courses at the Coastal Georgia Center; she's currently an adjunct professor of freelance writing and publishing at Armstrong State University; and she recently launched The Refinery Writing Studio to continue helping others tell their stories.
Currently, she is writing a biography of former Miami News editor Bill Baggs for the University of Georgia Press.
Amy lives in Savannah with her husband, three rambunctious dogs (Barkley, Harper, and Moses), and a talkative pig named Gus.