Pulling at a Thread
Tony Morris
On L2L: November 17, 2017 (click to listen to the episode)
About the Book
Dr. Tony Morris's most recent book, Pulling at a Thread, is a poetry collection divided into four sections: "Back Roads," "After the Long Season's Run," "The Joy of Madness Made," and "Four Sonnets + One." It was a finalist for both the 2014 Anhinga Poetry Prize and the Philip Levine Poetry Book Prize, and it has been called "a tour de force cross-country car trip through America," with "a fullness and music that will lift you up." "In Pulling at a Thread," writes R. T. Smith, "Tony Morris demonstrates how following a single strand can reveal life's patterns in their brilliant complexity."
About the Author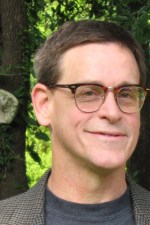 Dr. Tony Morris is a poet and a professor of creative writing and English—although he didn't initially set out to become an academician. Until his mid-thirties, Dr. Morris worked a series of odd jobs, including fixing bicycles, glazing windows, and selling encyclopedias, as well as ten years as a machine operator in a carbon paper factory. In 1992, however, he quit the factory job, started college, and found a life in journalism.
He began writing poetry in 1995 and, in order to be able to spend more time on creative writing, decided to earn a Ph.D. in English from Florida State University.
Dr. Morris was born in North Carolina and spent his childhood in the Appalachia Mountains of North Georgia and Eastern Kentucky, with a few years in California in his early teens. Much of his poetry and fiction reflects the influence of his Southern upbringing on his imagination.
His first book of poems, Fugue's End, won the 2004 Mary Belle Campbell Poetry Book Award, and he has a second book titled Back to Cain and a recent chapbook called Greatest Hits: 1996–2011. Morris's poems have been awarded the Louisiana Literature Poetry Prize and the Tennessee Writers Alliance Poetry Award and have been published in more than fifty national journals, including Spoon River Review, Hawai'i Review, Southern Poetry Review, River Styx, Meridian, The Sewanee Theological Review, South Dakota Review, Potomac Review, and others. He also has been published in anthologies, including the Georgia Poetry Anthology, the Southern Poetry Anthology: North Carolina, What Matters, and the Southern Poetry Anthology: Georgia.
Dr. Morris currently teaches creative writing and journalism courses, he works as the associate editor of the Southern Poetry Review, and he is the director of the Ossabaw Island Writers' Retreat.