Leigh E. Rich
In the vein of Anton Chekhov, Leigh E. Rich has followed two passions in life: literature and medicine.
A longtime "culture critic," she is an award-winning writer of editorials, news and feature stories, and reviews, and she has experience as a staff and free-lance journalist for multiple publications in the United States.
She also holds a doctorate in Health and Behavioral Sciences and a master's degree in Cultural and Medical Anthropology and has worked or studied in Australia, Denmark, Italy, Russia, and Switzerland.
A professor of Health Administration, she teaches courses in bioethics, health law and policy, and social theory.
Catch her on Fridays at 11 a. m. on Beyond the Liner Notes, 12:05 p.m. for Listening to Literature, and 2 p.m. on The Common Good, an exploration of health, law, and ethics. (She also was a guest host for Health Care Ethics from March to July of 2020.)
P. T. Bridgeport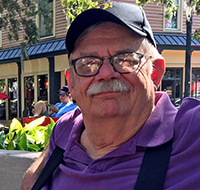 P. T. Bridgeport is a photographer, calligrapher, and uncompensated curmudgeon.
He is the author of The Moon and I Confer — a collection of his weekly radio soapboxes that speak to the human condition and the wondrous inanity of life — as well as East of Savannah that showcases his photography of Savannah and beyond.
He is a former president of the Savannah Art Association and a former member of the Greater Savannah International Alliance. He has exhibited his photography with the Savannah Art Association and in solo shows.
He was a trombonist early in life, but went through a program and now lives spit-valve free.
Find P. T. Fridays at 11 a.m. on Beyond the Liner Notes and at 12:05 p.m. for Listening to Literature. He also has a solo show called When the Moon Sings on Saturday evenings at 5 p.m.
Carol Andrews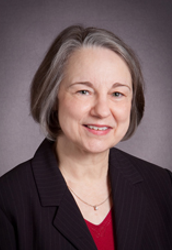 Carol Andrews, Ph.D., earned her doctorate in American and Southern literature from Vanderbilt University and taught English composition and literature courses for several decades at Georgia Southern University (Armstrong campus), Sewanee, and Tift College. She wrote her dissertation on Faulkner and has been a member of a long-running faculty reading group that has explored the works of Marcel Proust, Naguib Mahfouz, James Baldwin, Patrick Leigh Fermor, and others.
Find Carol on Fridays at 12:05 p.m. on Listening to Literature.
Jack Simmons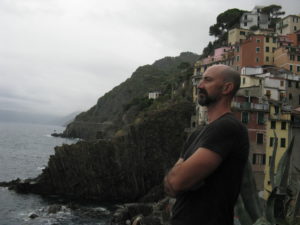 A professor of philosophy, Jack Simmons, Ph.D., specializes in metaphysical comedies with romantic twists.
He is the author of Three Dashes Bitters, a novel set in the city of New Orleans; the short story "The Painter's Daughter" (The Southern Tablet, 2014); and the plays A Tropical Affair (performed in 2013) and The Thin Tweed Line (performed in 2022).
He is also the editor of The 21st Century and Its Discontents (Lexington Books, 2020), an academic book on contemporary social norms.
He has published scholarly articles in journals such as Perspectives in Biology and Medicine, Film and Philosophy, the International Journal of Decision Ethics, and Techné: Journal of the Society for Philosophy and Technology.
Find Jack as a recurring guest on Fridays at 2 p.m. on The Common Good.